Gould & Stearns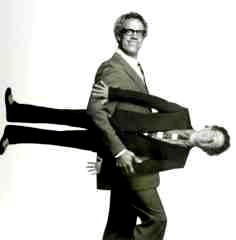 Gould & Stearns
Peter Gould and Stephen Stearns have been partners for more than twenty years, and during that time they have performed nearly three thousand shows from coast to coast. They are physical comedians with elastic muscles and big voices, wild faces, and original minds. If you could put Gould & Stearns in a bottle, you'd all have some in your first aid kit
Selections Include:
'Laughing Matters'
The best physical comedy from 20 years of Gould & Stearns performances. Two madcap men with rubber bodies, elastic faces, amazing sleight of word, irrelevant humor, and incredible illusions: stairs, escalators, whaling ships, revolving elbows, magically multiplying noses. Plus: stories, songs, ragtime ukulele and soulful concertina. Caution: May be hilarious to your health.
'Fee Fie Fo FUN!'
The Old Jack tale heard in a way you've never told it seen before! A brilliant blend of the best-crafted comedy, wild word play, utterly ridiculous costumery, and the audience always has a big part to play. The funniest, smartest children's theater you'll ever see!
'Simple Gifts' (a holiday play)
Late at night, with snowdrifts rising, Gould & Stearns find themselves in a lonely motel, missing their families. Stephen picks up the motel phone. Will he really order costly presents he can't afford, or will he learn Peter's lesson --that the gifts of the heart are the best gifts of all? The answer comes in stories and songs-- of the first Chanukah, of a medieval clown with no present to give, of Saint Nick who gets stuck in the chimney.
'Secrets'
With comic and touching stories, Gould & Stearns tell how it was to grow up dyslexic (Stephen) and stuttering (Peter), and how they came through their hard times. A very personal and honest look behind the laughter, this performance helps students see that they can turn their stumbling blocks into building blocks of positive self-esteem.
'A Peasant of El Salvador'
Since 1981 this award-winning play has carried Gould & Stearns all over the United States, England, Canada, and Central America. A marvelous teaching tool for students of Spanish, politics, and social studies. 'Peasant' is not just a play; it's a total educational experience. 'Peasant' has also been performed by student and professional companies from Vancouver to South Africa. English and Spanish textbook and curriculum available. 'Moving and magnificent' Pete Seeger
What's Said About Gould & Stearns:
'Nothing Short of Fantastic!' - Colonial Theater, Keene, New Hampshire
'Get them back again!'-The Arts Guild of Old Forge, New York
'We love Gould & Stearns! Along with the hilarity they bring a gentle love of humanity that's contagious. They have a direct appeal to the best in us.'-D. Jones, Hadley Series Producer, Kennet Square, PA
'They are a joy to work with and watch' - A. Chaltain, Hopkins Center at Dartmouth College, Hanover,NH
'Amazing, uplifting, just perfect for kids this age' - Squannacook Cultural Arts, Townsend, MA