Stephen Stearns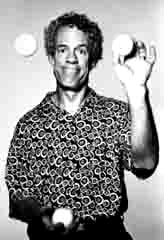 Stephen ('professor' ) Stearns presents 'Laugh Me To The Moon', a hilarious performance of physical comedy, idiotic illusion, magic, music, wit and wisdom served on a bed of audience hysterics.
● See a sensational super kid save the stupefied Professor Stearns!
● Monitor mom mastering madcap mime in a miracle minute... mostly!
● Clap for a crazy kid catching three beach balls in continuous cascade!
● Fall in love with the ukulele- Really!
● Play the applause game - and win!
● Dare a dad to disappear down a magic staircase yelling Wheeee!
Professor Stearns's comic genius sprouted in the rich fertile soil of his seven-year-old dyslexic mind (read: space shot). His mesmerizing rendition of the 'Old Oaken Bucket' in the school play brought wild applause, which he mistook for approval.
Alas, the fate of thousands of future audiences worldwide was sealed.
'As animated as the Marx Brothers and as commanding as Laurence Olivier' New England Storytelling Festival
'Simply GREAT!.....' Fletcher Free Library, Burlington,VT
A master of audience rapport, Professor Stearns is equally comfortable with Corporate Executives, Teen Age Dudes and preschool Rug Rats.