Trimming & Trappings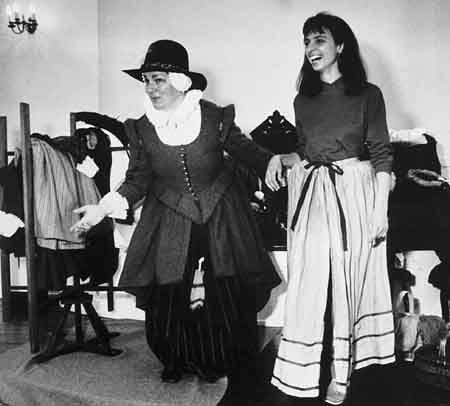 Trimmings and Trappings
'Trimmings and Trappings' is an engaging interactive look at the life of our earliest settlers. Through a broad display of children's' and adults' costumes woven around a story line and songs, audiences experience the daily lives of a 17th century family. Discover why the tailor lined his coats with cabbages and toddlers wore puddings on their heads!
Lynne Wilkinson, creator of 'Trimmings and Trappings' has been a costumer for historic Plymouth Plantation as well as the ensemble, Ayriel of which she was a founding member. She made all of the costumes for this production of 'Trimmings and Trappings'. She is a gifted musician, singer and choir director and performs with the Boston Cecila.
'Trimmings and Trappings' is an ideal program for schools, libraries, historical societies and public and private organizations.
'A superb program. It was delightful and my most favorite program that we have had at the library'- Susan Smith, Children's Librarian, Norwell Public Library, Massachusetts
'It is always such a pleasure to have you at the Revere House! People are intrigued and astonished by the wonderful array of costumes and accessories you have made and by your skill in using them to tell stories about life in Colonial America' -Gretchen Adams, The Paul Revere House, Boston