Judith Black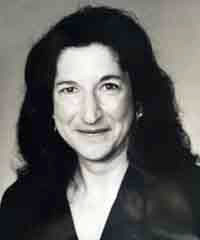 Judith Black, Storyteller
Judith Black, a dynamic performer who has appeared on radio and television, is recognized as one of New Englandís foremost storytellers. Boston Parentís Paper awarded her its Gold Medal Family Entertainment Award. Judith has appeared in performances from coast to coast as well as the prestigious Montreal Comedy Festival and most recently in South Africa. Her repertoire encompasses folktales, heroic women, stories with a historical focus, as well as stories she has created herself. An extraordinarily gifted communicator, her work enchants young and old alike.
Selections Include:
Artist in Education
With a degree in education and twenty years of experience, Judith uses storytelling in both performance and workshop with all grade levels. Residencies address the cognitive, curricular, social and creative goals of the school. Performances and workshops for students and teachers are available on topics as varied as: History Alive: America's Unsung Heroes and Heroines, The Long Journey: Stories of Immigration, Pinching the Giants: Tricksters of the World, Glad To Be Who I Am: Tales to Bolster Self Image, Rainbow Race: World Folk Tales and many more Contact us for a descriptive sampler of Judith's repertoire for young audiences as well as workshops for students and teachers.
Family Programs
Judith's programs have parents and children winking, nudging and pinching one another in self-recognition, as they watch the issues of their lives reflected through the laughter and tears of these tales. 'The adults are smiling as broadly as the children they've brought with them, maybe even more so' The Montreal Gazette
Adult Programs (for the Big People)
Judith's award-winning programs for adults will take you from bedrooms in Brooklyn to the battlefields of family relations. She tackles the topics of politics, sex and religion with a deft blend of the actor's craft and a writer's keen eye for detail. 'She received a standing ovation after her engrossing, often hilarious, and in the end poignant portrait of a contemporary urban romance' Chicago Tribune
More of What's Said About Judith Black:
'Thank you for your outstanding workshop on 'The Techniques of Telling'...evaluations don't get any better than that! Judith, you truly inspired us! Many, many thanks!- J. Eckert, Children's/AV Services Librarian, Western Massachusetts Regional Library System
'The storytelling experience you provided for the children and staff has to be considered one of the highlights of the school year. Your storytelling is not only an art but your teaching is also an art. You have done so much to enrich our lives with your storytelling and, needless to say, have made a great impact on the staff. I'm certain that storytelling will take on a new dimension at Riverfield because of you.' - J.A. Ricciotti, Principal, Riverfield School, Fairfield, CT
'Thank you so much for the wonderful program you presented.. It's wonderful to have a program where the performer is so in tune with the audience and flexible enough to change the time and type of stories to coincide with the children. It was good to be able to offer a program where the parents had as much fun as the children.' - J.A. Bourquard, Children's Librarian, Westfield Athenaeum
'What a hit you were! The teachers are still raving about your program. Amanda/Samantha now exists as a real member of our own first grade, and the Samurai wrestler will be evoked whenever our male students become excessively 'macho'. Many thanks for your entertaining informative, and perceptive presentation.' - E. Zwerling, Principal, Walt Whitman School, Syosset Central School District, N.Y.
elweiner@comcast.net Contact Us!