Jennings & Ponder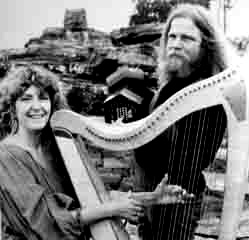 Jennings & Ponder 'World Tales and Celtic Music'
Tim Jennings and Leanne Ponder are two of the finest interpreters of traditional folk tales working today. Every program is different, hand-crafted to the particular needs of the audience and situation. With extensive experience in colleges, resorts, theaters, libraries, festivals, and elementary and secondary schools all around New England and much further a field, this highly acclaimed duo delivers a strong, and exciting arts experience.
Their unique approach to storytelling-- a kind of intricate yet transparent narrative counterpoint-- is exciting for all to experience.
Jennings & Ponder's concert recording, 'World Tales, Live at Bennington College', was named an American Library Association Notable Children's Recording for 1999.
Tim and Leanne bring a harp, two concertinas, and a small, complete theatrical set-up; lights, sound, backdrop, rug and furniture. They also bring more than eight hours of polished repertoire, with more always on the way. Every program is different, hand-crafted to the particular needs of the audience and situation. All material is traditional folk. The centerpiece of each show is a substantial classic duo-voiced fairy tale; twenty to thirty minutes in length. This is surrounded by shorter pieces- solo and duo storytelling, Celtic music played on harp and concertina, – to make up an enthralling 45-60 minute show.
Programs are suitable for all ages and all audiences. They can often be tailored to your specific needs. For programs in the schools a curriculum guide is provided.
'Wonderful storytellers; they take tandem telling to the next level so that listening to them is like watching two people weave the same cloth. People across the country need to hear them' PegO'Sullivan, Artistic Director, Connecticut Storytelling Festival
'... if you don't believe storytelling can be absolutely fascinating, try this duo: they are brilliant!' - Folk World Magazine, Germany
'...the most outstanding artists we have had in the 12 years I've been affiliated with the library'-L. Albertson, Bedford Public Library, New Hampshire
'I never cease to be impressed by their versatility and the excellence of their work' - Onion River Arts Council, Montpelier, Vermont
elweiner@comcast.net Contact Us!